Situated on the beach in the northern area of Bulgaria's most famous summer resort, Sunny Beach, the Blue Bay Hotel offers a lobby with reception, a lobby bar, and a restaurant with indoor and outdoor tables where you may enjoy a range of delectable delicacies. There is a swimming pool with a separate section for children, as well as a bar adjacent to it where you may cool off with your favourite drink.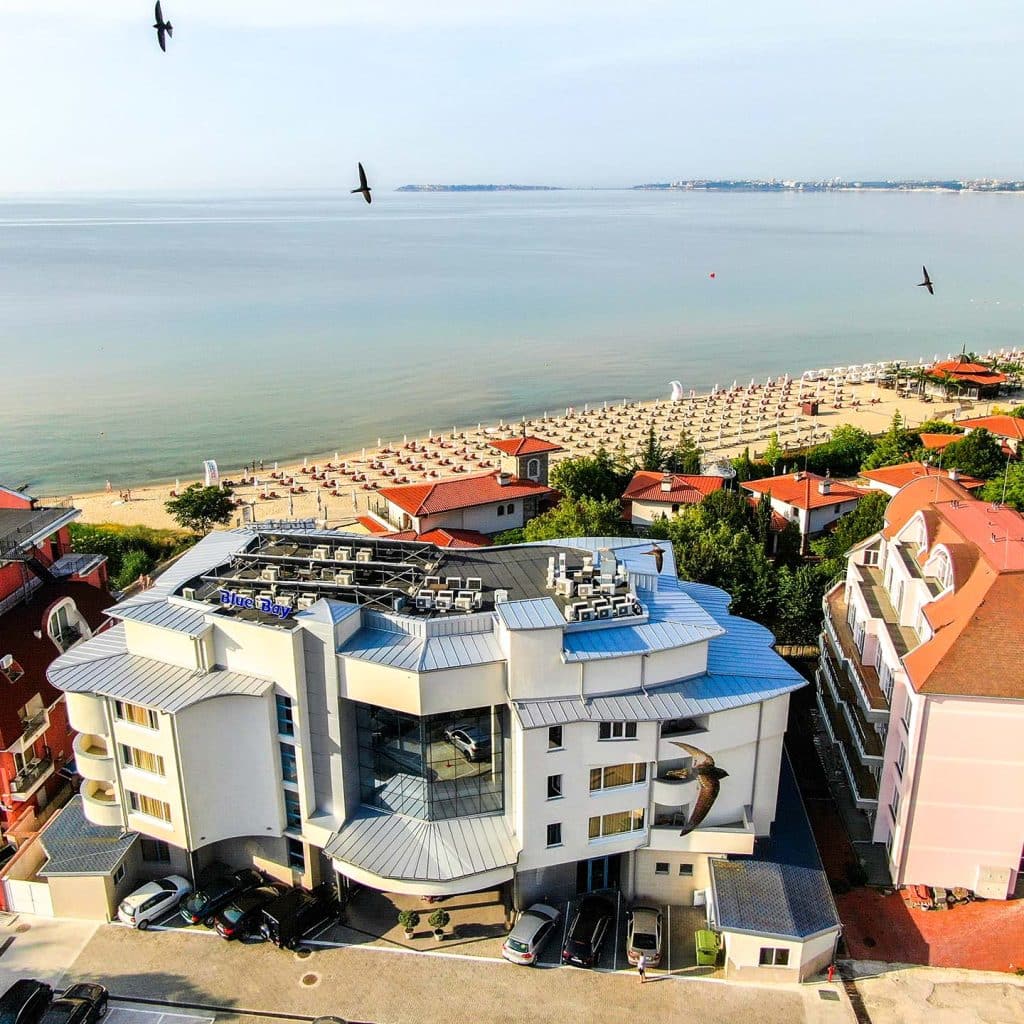 Our family hotel is a nice addition to the Blue Bay Hotel. It offers 14 double rooms and 1 one-bedroom apartment. A garden with a children's playground, comfortable chairs and tables where you can relax while drinking coffee or cooling off with another drink, and a swimming pool with sunbeds and umbrellas for guests are located in front of the hotel.
Due to the proximity of the two hotels, Sunny Flower's guests are served from the Blue Bay Hotel's reception. Tourists staying at our family hotel have access to all of Blue Bay's amenities and services, including the restaurant, pool, and parking.
We care about children and try to provide them with a variety of activities. There is a 90 cm deep children's pool with a water slide where they can have as much fun as they wish. A playground with a slide and swing is another advantage.
Billiards and bicycle rentals are also available for both youngsters and adults.
Welcome to the restaurant of Blue Bay Hotel! We will captivate you with a range of delicacies from Bulgarian and worldwide cuisines, all prepared with love and craftsmanship and served with a smile.
You can relax at one of the tables indoor and enjoy both the great meal and the sophisticated and stylish ambience. The restaurant features a giant LED TV so you don't miss your favourite football championships and sports events and can watch them in the company of friends.
The hotel has an outdoor pool with a length and depth approximately 1.70 m where you can swim or simply cool off on a hot summer day. The pool also offers a slide section for younger guests.
The sunbeds and umbrellas beside the pool are available for free for guests of the Blue Bay Hotel and the Sunny Flower Hotel.
The pool bar will provide you with delicious cocktails, soft drinks, and selected drinks to make your sunbathing experience even more delightful.